With two bachelor's degrees, two graduate diplomas and (almost) two masters degrees to her name, you might think Jacqui Stok is the queen of further study, but she says that to begin with, she was just going through the motions.
"I wasn't a very good student at school," she says. "I've only become an intrinsically motivated student in the last ten years."
Jacqui is an Education lecturer and Programs Facilitator at Eastern, but she started as a maths and physics teacher at a Christian school, where her interest in Christian education was sparked.
"Soon after starting at the school, I realised that Christian education was so much bigger and more exciting than I had ever considered," she explained.
In 2010, when Jacqui saw an ad for a workshop in Christian education in Grand Rapids, Michigan, she thought she might go. "I liked the topic, and I thought it would be fun to travel to the US," she said.
What she didn't know was that the speaker at the workshop, David Smith, was a leader in the field of Christian education. Nor did she know that this event would change her life.
"That workshop switched on a real love of learning and academic engagement," Jacqui said. "Perhaps it was partly spiritual—God meeting me in that moment. But also, it was the way that David Smith taught.
Smith's teaching strategies drew the participants into a deeper experience of learning. For Jacqui, it turned on a passion for learning that has never been turned off.
"Before the workshop, I didn't read books at all," she said. "Since then, I have not stopped reading."
The weeklong workshop, looking at liturgical practices in Christian education challenged the prevailing idea that Christian education was only about worldview.
"David challenged us to think more broadly about pedagogy. He said that it was not enough to consider the Christian ideas in what we taught. Rather, how we taught, and the daily practices in our classrooms, contribute to the formation of our students," Jacqui explained. "He was practising what he preached, and it was thoroughly engaging."
Jacqui was enrolled in a Master of Education at the time but the workshop inspired her to finish it more quickly. Her next foray into study was a Graduate Diploma of Divinity at MST.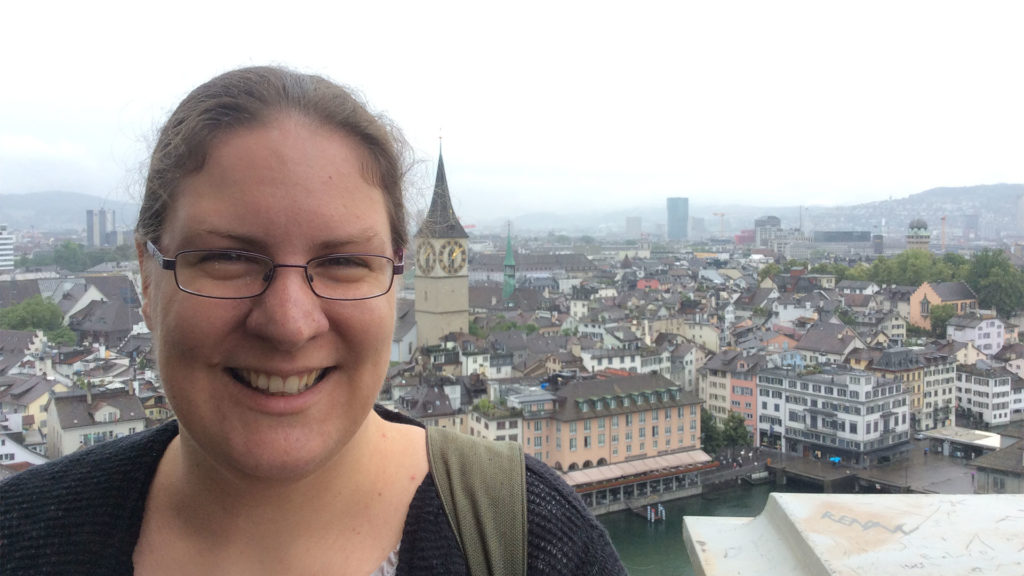 "I was going through a moment in life where I was really excited about what God was teaching me through the Bible, so I did it for my own spiritual growth and development," she said. "But I had also just become the Director of Teaching and Learning at my school, so I knew I also needed to have a better understanding of the Bible and theology."
When she reached the end of the Grad Dip, Jacqui wanted to keep studying.
"I just loved it," she said. "I couldn't get enough of it. It was life changing."
She transitioned to a Master of Divinity and is now in the final phase of her course, doing a research project on Theology and Christian education.
"I'm looking at a theological understanding of the nature= of humanity, and the influence this has on how we teach our students," she explained. "Education has traditionally been about viewing our students as 'thinking things' and filling up students' heads with knowledge. So Christian education has been about filling up their heads with Christian knowledge. But what might education look like if we view our 'image bearing' students more holistically – as thinkers, lovers, and doers?"
In her new role at Eastern, Jacqui has switched her focus from high school students learning maths and physics, to adults learning about education. She has a passion to help them think through what it will mean for them to be Christian teachers and educators.
"When I went into teaching, I thought that 'Christian education' was about being a Christian while also being a teacher," she said. "Then I worked in a Christian school and realised that it is so much richer and broader than this. God is sovereign over all things and that includes quadratic equations and high jump. We can't split life up into the sacred and the secular."
After the workshop, Jacqui began to think more deeply about Christian practices in learning.
"For example, rather than saying we want our kids to have humility or courage, how can we design classes and lessons and school culture so that these things are taught, modelled, and practiced?" she said. Her aim is to engage students in developing those practices and to inspire them to intentionally embed them within subjects, classes and schools.